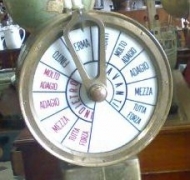 The engine order telegraph, also called Chadburn, after his inventor, is used to send orders to the engine room.
"All-ahead full, back full, all stop," etc. In order to let the engine crew know that an order is being sent, the pilot is required to "ring" the telegraph on the bridge.
In the engine room, in front of the engineer of the watch, there's a dial similar to the one placed on the bridge.
The telegraph, together with the helm steering station, is a symbol of navigation and is the most sought-after article.
Available in various sizes, our telegraphs can also fit into small spaces in order to enrich some areas of your apartment or office.
Our telegraphs are mainly in brass, but you can also find some aluminium ones.