Marine Interiors and Nautical Antiques and Marine Collectibles
Furniture Marine Style, Ship Forniture, nautical antiques, Nautical Instruments, Nautical Museum Quality , scientific instruments
| | | | | |
| --- | --- | --- | --- | --- |
| Sei in: Menu Verticale > Company | | | | |
Company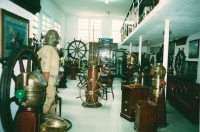 Three generations for a passion that has been passed down from father to son. "Il Corsaro" today is a well known brand both in Italy and abroad, and is considered one of the major naval furniture and antiques retailers worldwide.

Our company was founded by Alfredo Carletti in the 1960s in La Spezia. At that time the town had a major role in ship breaking in Europe. In the past, when a ship was sent to the breaking yard, all wood parts of inside wood lining, furniture and other special items like rudders, compass binnacles, chart-tables etc. getting in the way while cutting metal plates with blowlamp, were dismantled without any care and finally destroyed or burnt in order to recycle hardware bronze and brass parts, which were then sold to smelters as scrap.

Mr Alfredo had the brilliant idea of buying from scrappers both wood doomed to such an inglorious end and naval furniture. He then started a new trade that would soon become a new furnishing style, as such items were mostly made of mahogany, teak and iroko fine wood.

On the wake of Alfredo, soon joined by his brother Emilio, many other local retailers started such a business and the Viale San Bartolomeno of La Spezia soon became famous for the many windows hosting together sober navy style furniture and glaring brass lights and binnacles, colourfully framed by the flags of the international flag code.

The Carletti brothers soon started dealing with ship disassembling and discharge of such a precious furniture, by directly contracting operations in shipyards in order to avoid indiscriminate waste and save pieces which are unique of their kind.

Also Mr. Fausto, Alfredo's son and company's owner with his wife Daniela since 1973, when he was only a kid, used to take part in such adventurous expeditions through halls and corridors of famous passenger and freight ships.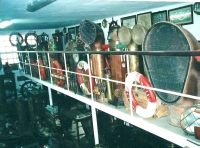 Fausto Carletti is nowadays considered as a naval antiques expert, he takes part in conferences and meetings all over Europe and organises exhibitions on the subject. Custom-made navy-style furniture designing and manufacturing, have always been key in our Company.

This is due to our desire to recreate and bring into your houses timeless charm, inspired by the furniture of historic tall ships and glorious steamers. Original furniture is often integrated into customised as well as charming and exclusive solutions which create a functional and comfortable space for people who live their daily life at home or on their workplace.

We design furnishing solutions for homes, professional firms, picturesque taverns, hotels, discos, pubs, sea resorts and historical boats.

In the warehouses of IL CORSARO one can still find original pieces of furniture from old glorious boats, as well as a number of items and instruments such as lights, lamps, wall lamps, ceiling lamps, helm dashboards, boat steerings, compass binnacles, compasses and sextants, octants and chronometers, anchors and old blocks.

All these items are treasures coming from a list of glorious ships, which made their last docking in La Spezia.

Our family have taken part in the breaking of many ships, among which we wish to mention the "Oceania", launched in 1950 and demolished in 1977; the "Giulio Cesare", launched in 1949 and demolished in 1973; the "Conte Biancamano", launched in 1925 and demolished in 1960; the "Conte Grande", launched in 1927 and demolished on 7 September, 1962. We also wish to mention the "Liberté", the battleship "Richelieu", the "Giuseppe Verdi", the "Andrea Costa", the "Saturnia" (ex "Vulcania"), the Austrian Emperor Franz Joseph's yacht "Jaza", the steamer "Kenia" and many other glorious ships from navigation companies all over the world.
Each item comes with its own certificate of origin and authenticity.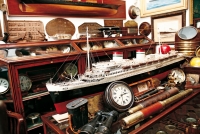 Today, with the inclusion of Mr. Fabio, Fausto's son, our Company is looking ahead with its third generation. It keeps searching with enthusiasm for original items and furniture in those places of the world where ship breaking is still practiced.

Backed by skilful and competent craftsmen, we also work in the furniture making sector, by taking care of details and of the choice of materials according to the requirements of our customers, who are granted full design freedom.

All these factors provide furniture items with a special value, which is maintained through time the same as original furniture.