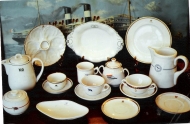 At Il Corsaro, you'll find a wide collection of naval china, rescued from ships from worldwide maritime companies. It's a wide assortment of items all strictly original and with certificates.
On each item, there are both a company seal and a factory seal.
See for instance china items from the famous "Società di Navigazione Italiana di Genova", also known abroad as "Italian Line", the same company the Rex, the legendary liner, winner of the Nastro Azzurro, in the August of 1933. On each piece we find the " Italia " logo with crown on top; manufacturer's mark and serial number are on the back, Richard Ginori in this instance.
Each item also bears a serial number directly printed on it in the factory.
Unfortunately, today there are many fakes around, so, beware of imitations and always make sure that seals are visible. Due to our ongoing worldwide quest for new items, we are also interested in the purchase of objects. Please write us for any enquiries or ideas.