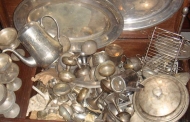 Il Corsaro showcase a wonderful collection of naval silverware, in which each item is strictly original and bears the seal of the maritime company and of the factory.
Each piece is stamped by the factory, bears a serial number and is also marked by the maritime company. Beware of imitations, which nowadays are found on the market.
For each piece, we include a certificate of origin attesting where the item comes from.
Our collection includes items from navigation companies from all over the world.
Pieces by the famous Lloyd Triestino, Società Italia, Navigazione Generale Italiana, Costa, and many other companies are also found in our shop.
Items from famous Italian liners, such as the prestigious Rex are also available. In 1933 Rex won the Nastro Azzurro prize with an average speed of 28.92 knots, outdoing the previous German liner Bremen's record.
Original Rex's silverware must bear the "Broggi" mark on the back.