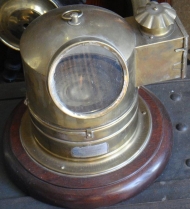 Each lifeboat binnacle available in our shop is accompanied by a small description and illustration.
The lifeboat binnacle is a gimbals compass enclosed in a brass case with oil lamp on the right hand side for night lighting, and ring for transportation, enamelled metal wind rose with printed graduation, fastened to a float and sunk in liquid.
The manufacturer's mark is on the rose. A beautiful stylish present. We have lifeboat binnacles of different make, age, and origin.