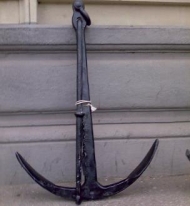 An anchor is a heavy object that is used to secure a ship to the bottom of a body of water at a given point to keep it from moving. It is made of metal and is attached to the ship by a rope or chain.
The more common types of anchor are
Hall
Admiralty Pattern Anchor (Fisherman's Anchor)
Mushroom Anchor
There are different types of anchors according to the type of sea bottom they are meant to hook to, and according to the type of boat.
Generally, anchors with large fluke surfaces are suitable for sand or mud seabeds, whereas narrow or pointed flukes are suitable for a hard or rocky seabed.