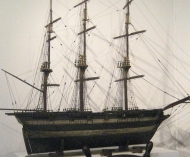 We have models of ancient as well as recent ships at very competitive prices.
We have beautiful models of tall ships, work boats, famous war ships, old yachts, liners, school ships such as the Amerigo Vespucci and many others.
On request, we provide models in beautiful wood and glass showcases, either original or built by us in mahogany.
We build models on our customers' special requests, totally craftmade, excluding the use of items from assembly kits.
Each small piece is entirely hand-made: this makes the final model a really unique item.
We also provide boat restoration service.
Come to visit us at our shop in La Spezia.