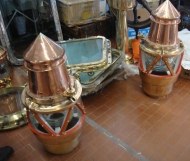 Rare and beautiful brass Buoy Lights of different age and sizes.
Beautiful Frlesnel lenses in excellent condition.
The Fresnel lens was invented by the physicist Augustin Jean Fresnel in 1827 originally for use in navigation lights, aiming to reduce lenses thickness. Later on, Fresnel lenses were employed in many other fields.
Please don't hesitate to contact us for any information you may require.