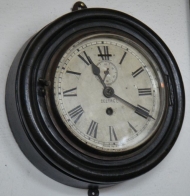 In our warehouses you can find a wide variety of original clocks.
They are wall clocks in different sizes, all original and perfectly functioning. Il Corsaro guarantees that each item comes along with its own certificate of origin.
On request, we also provide a custom-coloured mahogany base.
Our collection includes a considerable number of clocks of several brands, sizes and shapes.
Price varies according to brand, age and origin.
It's a really great idea for a present!