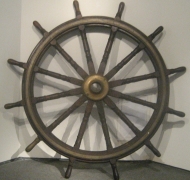 Beautiful helm wheels
Il Corsaro offer a great variety of original helm wheels, of different age, origin, type and size.
We can insert wonderful helm wheels in furniture settings, by hanging them to walls with hooks or by mounting them on wood supports.
They are ideal complements to customize and furnish environments.
Our experienced craftsmen can transform original helm wheels into beautiful tables, lamps, and other items, and create unique and wonderful furniture configurations.
Sizes vary considerably, from large tall ship helm wheels, to small yacht or work boats helm wheels.
We wish to remind our customers that each original helm wheel of our collection is accompanied by a certificate of origin and age.