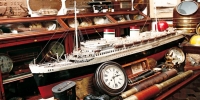 At IL CORSARO we rent our own equipment for photographic sets, cinema and television, and theme shows; we also supply companies with furniture for exhibition stands and other events.
Equipment rental for advertising, photographic and film settings.
We rent nautical and scientific instruments, original furniture, typical nautical items such as anchors, bitts, portholes, blocks, helms, compasses, telegraphs, tallships dead eyes and rigging systems, etc.
We can provide national and international shipping. Please write to us for rental terms and conditions.
marine antiques, collectibles